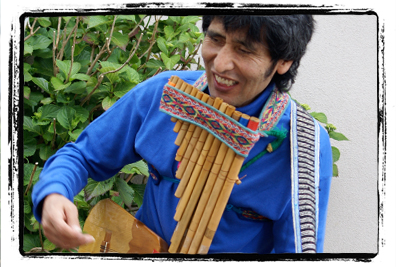 Born in Apurimac Peru. Rene learned to play mandolin and guitar and recite poetry at age of 5 and started touring at age of 8. Later, he collected more than 100 Andean instruments and learned to play all of them.
Rene has performed or recorded with famous singers of all different styles such as Lucho Barrios (Bolero), Conni Viverac (Criollo) Pedro Ferrer (Criollo), Pablucha Venero (Bolero), Latin American), Alicia Alonso (Mexico), Los Monarcas (Latin American), Ayllu (Latin American), Fortaleza (bolivia), Culturas Ancianas (Chile), Edwing Montoya (Folklore- Ayacucho), Pastorita Huaracina(Folklore- Ancash), Princesita de Yungay (Folklore -centro), Sonia Yasmina (Folklore- Cusco), Casador Huanca (Huancayo),etc. Beside his music studies at Superior Institute of Music Leandro Alvina Miranda, He also studied Engineering at San Antonio Abad University and teaching at Santa Rosa Pedagogical Institute.
After graduating, Rene was invited to do an international tour which brought him to Canada . In Canada, he studied with Michael Straut (UBC professor), Alan Rainhart at VCC Music Program, Victor Kolsky at Rosario School of Flamenco.
Rene has 10 recordings and 3 books of poetry. Rene has performed in more than 200 schools in B.C. and many festivals in and out of Canada. Rene recorded with Vancouver Chamber Choir, Okanagan Festival Singers, Victoria Choir, Kelona Choir, Charlot Diamond, etc.
In 1996, Rene was honoured with a medal by the Peruvian Consulate as cultural ambassador of Peru in Canada . In 2004, Rene received a medal and nomination of Artist of the Year in the Latino American community. In this year he was also nominated as the favourite artist of 2004 by Fair Child radio station,. He participated in 2004 Vancouver International Storytelling Festival and the play "In the Time of Miracles" (Enderby, 2004). In 2005, Rene represented Canada with his group "Rene Hugo Y Sus Amigos" to the Nanning International Music Festival (China). Rene has been teaching Classical guitar and other instruments in Canada since 1990.